Food Vans and Kitchens
VAKS: Vans And KitchenS
Chaplainwatch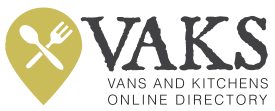 Add to favourites
About Us
VAKS is shorthand for Vans And KitchenS
your one-stop online national directory to finding a Van or a Kitchen for anyone needing a feed and some TLC near you.
your place to register if you are a VAKS Provider helping you promote the who, how, when, where and what you are doing with your Van or Kitchen. Simply opt-in.
your go-to volunteer spot for connecting directly with a Provider who operates a van or kitchen near you.
VAKS is a free service to search, to register, to volunteer.
VAKS has elected to withhold the display of their location on a map
Extra Information
Online Service Yes
Access Fee No fee
Age Ranges All ages
Volunteer Notes
Find the Provider contact details in the category, 'Food Vans and Kitchens' and communicate with the organisation directly. Don't contact vaks.org.au to volunteer please as this is an online directory service only.
Share with QR Code
ChaplainWatch is a community service charity, designed to intentionally intervene where people are in crisis, at risk, and in need.
Visit Chaplainwatch website